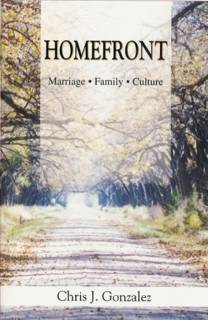 This is the cover of my book, Homefront: Marriage - Family - Culture. You can probably guess what it is about by the title. I write a column in the Jonesboro Sun every other Saturday (that's all they will let me rant. I would write more if they would let me.) This book is a collection of my first 50 articles from the paper. By the way, don't go to Jonesboro Sun online edition looking for a taste because not only do they not archive my column, they do not even publish it online. It's nuts. Like it would cost them anything. OK, back to the point.
Now, should you decide to purchase a copy of this book by filling out this
order form
on pdf or this
order form
in MS Word and mailing it to me with your check, you will be doing something more than getting a book of my writing. You will be giving
Flaming Pine Youth Camp
a gift of $8.00. That's right, $8.00. So, as you probably figured out, after printing, shipping, and marketing costs, Chris is not exactly laughing and scratching all the way to the bank. I don't want to. I want to help this camp.
Why? Well, I spent many summers at this camp as a boy learning of the God of natural wonders (It's the only place I ahve ever seen purple lightning). I learned of the God who mends broken hearts (He mended mine there on more than one occasion). I leanred of the God who is worshipped in many ways (song, art, poetry, play, fellowship, community living etc). I learned there is a community of faith that transcends my little church. I learned that although kids are really never hugged quite enough, there is a place to go and try to get filled up on them. I believe that God still does wonderful things at this camp, so I believe that if I support what God is involved in, I am doing a pretty good thing.
More recently, the camp has been involved in raising money for inner city kids to get the camp experience. I'm all for that.
Anyway, I feel no shame in self-promoting this book because I am not making anything on it and it is going to a good cause. Feel free to buy a copy for you and all your friends, post it on your websites, link it to your blogs, TELL THE WORLD!!!!!!!!
Thanks.